Not too long MNY came to the Netherlands. The brand is descriped as Maybelline's little sister. All their products cost less than €3, the packaging looks really cute and they have some nice colors in their polish collection!
I recently bought four of them. One is just plain white and I haven't swatched that one yet.
The polishes haven't been given names, but numbers.. the only brand that gets away with that to me is Nfu Oh, their numbers are famous anyway. But this just annoys me, they could've given them atleast some simple names.

This is 445


445 is a light gold colour with lots of shimmer. I'm not too fond of yellowgold in general. But this is a pretty colour which I think I'll be wearing again after the swatch. I was wearing two coats.
And look at the cute bottle! The handcuffs, guitar, key, girl.. :D I think it looks awesome!
This is 657
657 is a gorgeous blue, also with a lot of shimmer. I'm a sucker for blues and I looove this one<3 Too bad it gets some strikes in it during applying. I had on two coats.
And last 673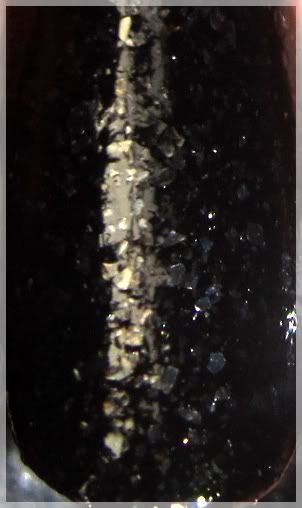 673, in the display it looked like an average black with some subtle glitters in it. But when I took it out I saw flakies! They were hard to capture on a picture, but the detail shows a bit of the grey-ish flakes. These pics don't do justice to this polish. It really is gorgeous!
So way to go MNY! I'm very satisfied with the quality of these polishes and they have lots of other beautiful colors to choose from! And the bottles look so cute on polish shelves ^^