Hellooo,

I love living so close to the borders and having a quite different world of make-up and nail polish on both sides. Though I'm rarely in Belgium and weekly in Germany.. Anyway, I went to the German DM drugstore yesterday. Buying a few things that I'll be needing on vacation. Cause I'm going to Helsinki with my boyfriend for a few days in the autumn break! We'll leave on friday the 15th and will return the next monday. *Excited!*

Anyway, I bumped into an unfamiliar Essence display, called 'Show Off'. The 'NEWNEWNEW' boards around it suggested it indeed was new. Why didn't I know of this? Have I missed it on the web? Did it all got announced and out in the few days my internet was being a bitch? Or is this something only Germany was informed about and blessed with?

Here's a crappy image from the display: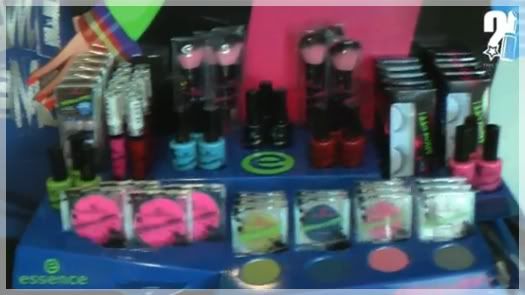 (Left-right, back-front) Click-on nails, two lipglosses, blush brushes, two kinds of fake lashes, 5 new polishes, pink blusher, 4 eyeshadows and two kohl pencils.
I bought two of the polishes. I have no idea what all the names are, cause it's nowhere to be found online. I bought the green one 'Here I Am', the dark blue 'Chica' (which looks like black, in the middle) and the blush brush. I believe the pink polish was called 'Me Me Me!'.
I really don't get why they have brought this out without any marketing or even the slightest announcement. Neither do I get how they managed to do that without something leaking out.
This first one is 'Here I Am':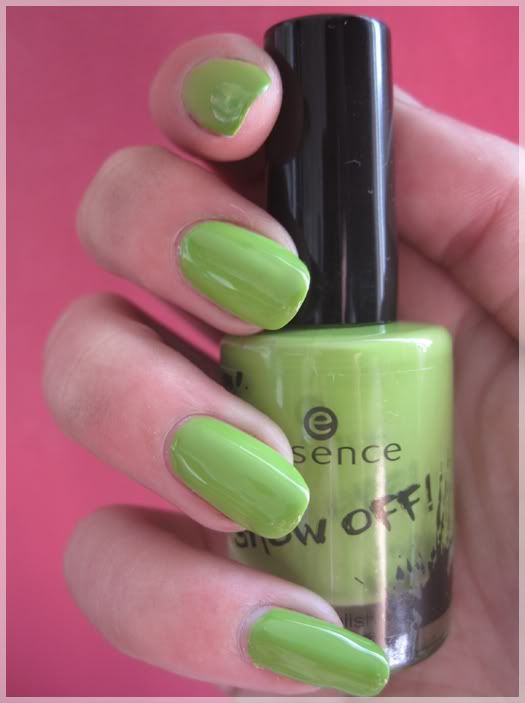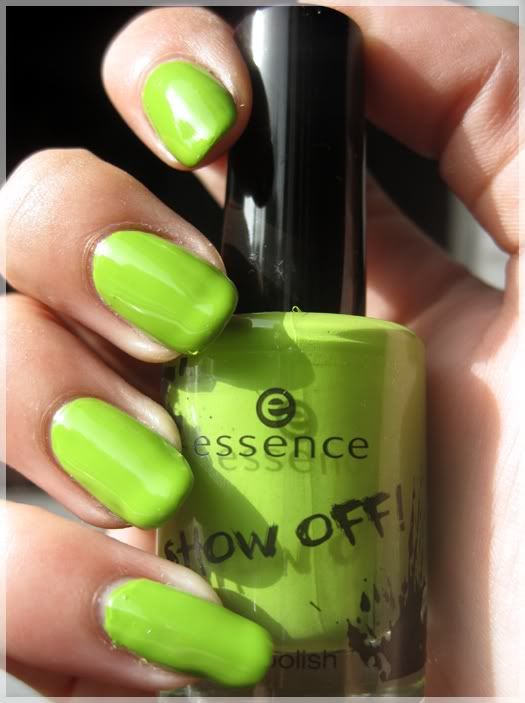 Outside in direct sunlight
Here I Am is a shiny lime polish. I was in doubt about buying it. But I'm glad I did. It got stipes during the applying which turned to patchy with the second coat. But the top coat evened it out and I like the way it looks. It's not like any other green, lime or green-yellow I own. I also think this would make a lovely Halloween colour.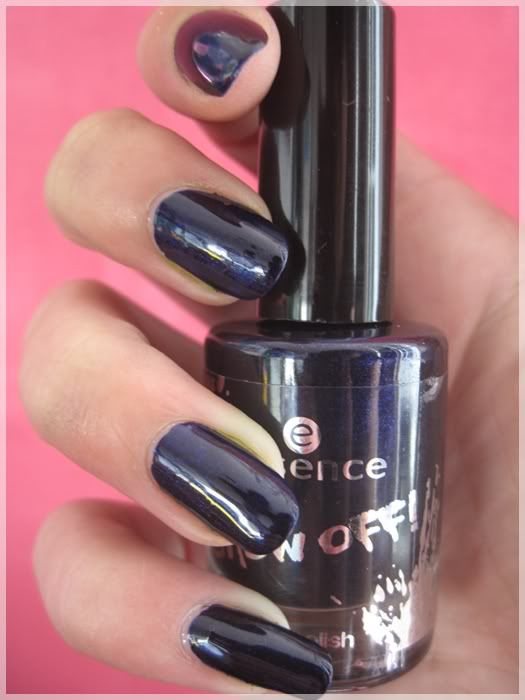 Outside in direct sunlight
Chica is a dark blue with lighter blue sparkles in it. I barely noticed them in the bottle, but they pop out in the sunlight. I'm wearing two coats. This one applied a lot nicer than Here I Am. It's not unique in my collection at all, it's just another lovely blue. Which is fine :)
I don't know in which countries this collection will be available, except for Germany of course. I really hope I'll run into in in Holland soon though!
Do you girls like this collection?