Hey everyone,
First I'd like to show two polishes I bought yesterday.

First is Gosh Metallic Green. I'm not too pleased with this one, which isn't how I normally feel about Gosh polishes. While applying it, it got all stripey and thick. The colour itself isn't like it shows in the bottle, where it looks a lot darker. This pale metallic green really isn't my kind of colour. It costs €7




I love the next one though. It's 2true Shade No. 14. A pretty indigo blue. I love colors like these. It went on nicely, though the bottle says 2 coats but I think it meant to say 4. It costs €2,50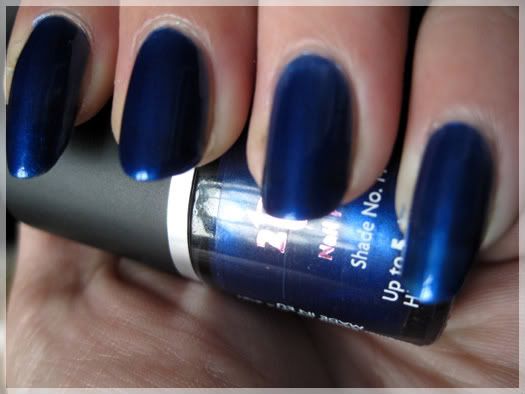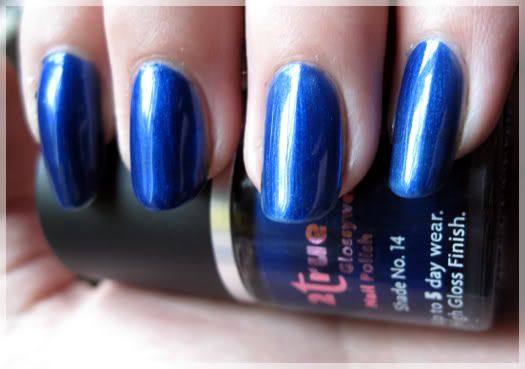 Now, onto the Essence Nail Art Stampy set. With this set comes one stamp, one scraper and one image plate. This set costs €3, I'm guessing they'll maybe come out with more of these, cause their site says 'stampy set 1'?
I also bought two of their stampy polishes and three other image plats. I already own some of this same stuff from Konad. But for the always friendly Essence price I really wanted to try it out.



Image plates #4, #3 and #1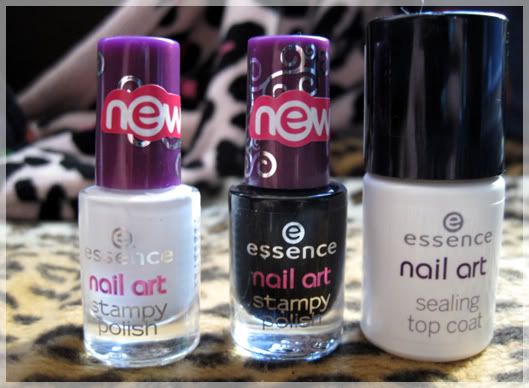 Stamp Me! White, Stamp Me! Black and a sealing topcoat.

In the first picture it already shows how the scraper damaged the image plate. Not nice. It's way sharper than the Konad scraper. Although I would recommend everyone to use plastic carts, they don't damage the image plates and get the excess polish off better.
The stamp works fine for me, I still prefer the Konad stamp cause it's bigger. The Essence stamp picks up the polish well enough, but it's so tiny and sometimes a bitch to hold.

I tried the Stamp Me! White over Artdeco's #90.




The floral designs are all from the Essence plates, the bow and fishnet-thingie are from Konad plates. I like the result even though it's still a bit messy.

I also got the Essence Nail Art pens. I love them. Really, LOVE them! They work wonderful, I tried them on my nailwheel. I've got five of the six colors.
They cost €1,99 a pen.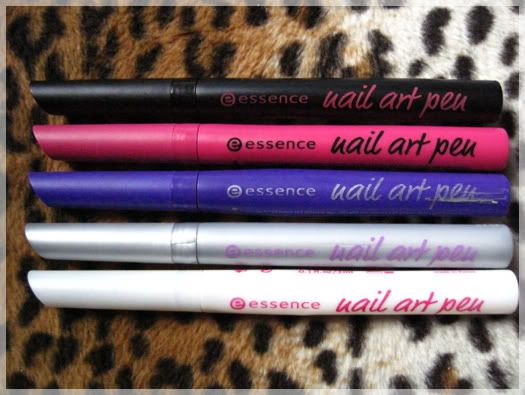 Cool Black, Spacey Pink, Deep Purple, Silver Star and Silver White.
There's also an orange pen available.
The polish colors don't all look like the the colour of the pen. Black does. Spacey Pink isn't a bright fuchsia but rather a babypink. Deep Purple is a deep purple, but my camera didn't want to let you know, it looks a lot less blue in real life. Silver Star is a silver glittery polish and and Silver White is also silver, not white. But it's less glittery.
Even though I was a little suprised when I got the colors out, I still love them!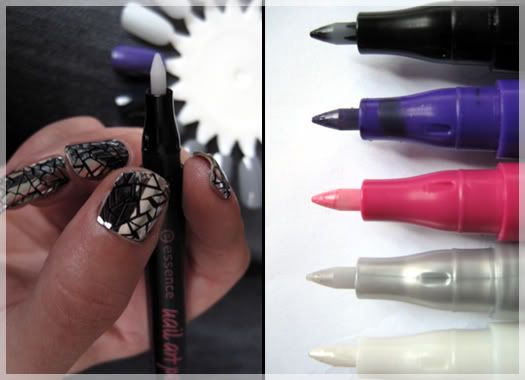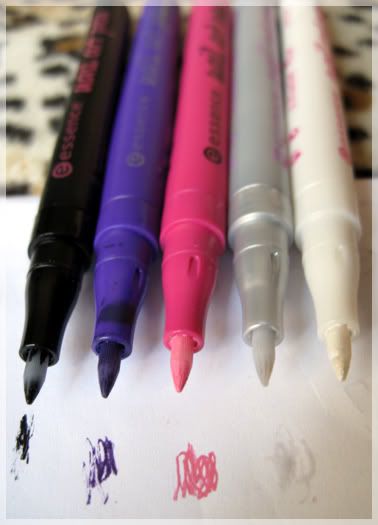 Before using them you have to push the tip of the pen onto a paper or something. See, I was sqwueeshing the pens hoping something would show, but nothing.. my boyfriend grabbed one and pushed the tip in on the table, it worked :)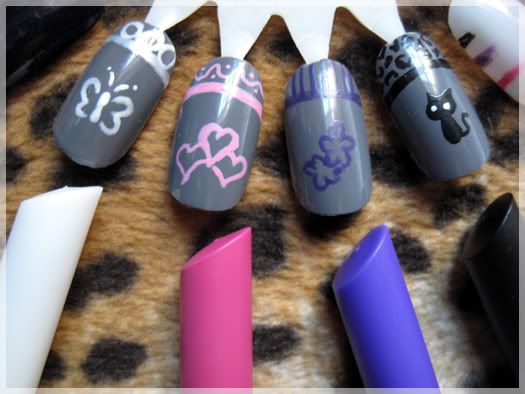 I think I'll be using these a lot. I love to draw and this opens up a whole new world of stuff that I can draw on my nails. I think I'll get a few more of the black, pink and silver star. These really are my favorites. And perhaps I'll even get the orange one, though that's not my colour at all. It might come in handy some day.
Thanks for reading!
xxx